Lena's Story
Nadya! Nadya! Nadya! I was sick to death of hearing the world revolving around Nadya at my school, especially since she lost her virginity last week to Tommy. Everybody at my school, well, just the girls, know of the Legend of The Virgin Whisperer and Tommy. They know that he is the expert one, the one to take your virginity respectfully and properly and that you can make a very nice stash of cash at the same time.
Other girls have boasted of his prowess and their experiences, but Nadya has gone too far this time. Not only is it the only conversation out of her mouth, but on whispered confidences, Tommy has decided to give up his job, for her! According to her, Tommy told her that she was the best he had ever had and that in that one brief coupling, he has declared his undying love for her! According to her, they are sneaking out together at night and talking babies and marriage. This talk of hers is just sickening and so very untrue and do you know how I know the truth? It is because that just 48 hours ago, Tommy took my virginity. And there was no mention of his "one, true love, Nadya".
... Read more >>>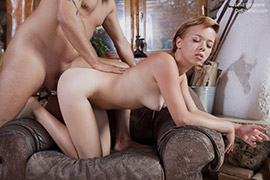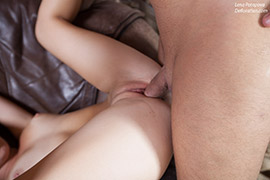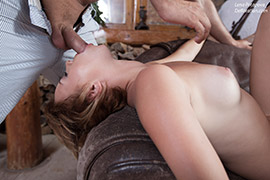 Helen Flingston:
Hello, my name is Helen and I am just 18 years old. My family lives on a farm outside of Budapest and I am just finishing my final school year. I have a mother and a father and a very protective older brother. Oh, and a boyfriend, too.
I work hard on the farm to help my mother and father and my days are very busy. Money is very tight, so we all work together and our life is good. I get up very early each day and my brother and I do the chores to start the day. Then I go to school and study hard and when I get home, there is still much work to be done in the house. There is little time for fun in my life and what free time I have I spend in the company of my family and my boyfriend.
Last week we went to the Cinema and... Read more >>> enjoyed a popular movie. As we sat in the dark, he put his arm around my shoulders and let his had brush down over my tit. At first, I was startled, but as the movie progressed, his brushes became stronger and more frequent and I could feel each brush from my tit down to my very core. When the movie was over, he pulled me hard against him and I could feel the hardness of his penis as he claimed my mouth with his. When he finished kissing me, we were both breathless. I had to push him away. I could not continue. I must remain chaste because I had sold my virginity to a photographer who would pay me good money for pictures of my virgin pussy. And even better money if I would allow him to photograph the loss of my innocence to a porn star. I agreed. I signed the contract and I really need the money.
You see, I dream of becoming a veterinarian. I have spent my whole life on the farm tending to all the animals I love so much. I have watched our veterinarian work with our animals and I have learned a lot from him. But it will take money for me to be able to leave the farm and go to school. And when I graduate, I can come back to the farm and be an even better support to my family. Selling my virginity seemed like the only option I had.
Even out here in the countryside of Budapest, Tommy and defloration.com are legends. I've had several friends who have lost their innocence to Tommy and they all said it was a good experience and all that he taught them made them to be better girls for their boyfriends. I wanted to be that better girlfriend and I needed the money. So, I hatched a plan and contacted the defloration.com studios and signed a contract.
It was an early spring day and already it was warm, so I put on my favorite pink sundress and my favorite fuchsia panties and headed to the studios.
I met Tommy and the producer and photographer and they couldn't have been nicer. We traveled a bit to one of their favorite locations and while we were driving, I got to know Tommy a little better. He was always gently touching me and he occasionally would give me a chaste kiss. I felt amazing to be the object of this man's affection. He was funny and had a good sense of humor and he was careful with me as he knew I was nervous. I had ample time to get used to his touch as his body before we began filming.
We started with a kiss and that kiss became more passionate as time progressed. He started out gently stroking my breasts and as my nipples pebbled hard and straight, he took the entire breast into his mouth and sucked. Hard! Instinctively, my hands flew to his head as I pulled him into suckle first one nipple and then the other. It was a strange sensation at first, and my mind was warring with itself over what was happening to my body, but then sensation turned into indescribable pleasure and my body and my soul began to crave his touch for the pleasure it could bring me.
He then began to finger me where no man had ever ventured before. It started as a little tickle, but the more insistent he became, the tickle turned into a burning sensation that soon had my legs weak and jelly like. His large hands held me up and soon his strokes became faster and more urgent as I gave into these strange and new sensations and then my orgasm hit me fast and unexpected as my eyes rolled back into my head and my body began to shake and quiver from the shear sensation of it all and as it reached its crest, Tommy sucked a nipple into his mouth and sucked with all the strength that he could muster and I began to fall, to float away from my body on wave after wave of sheer pleasure. Oh My God! This is amazing I thought and I wondered if all orgasms were like this or was it just an orgasm with Tommy? When I finally regained cogent thought, Tommy was smiling at me and I could have sworn I saw pride in his eyes. But here I was, all naked and having had one hell of an orgasm and Tommy was still fully clothed. When he finally revealed his manhood to me, I was in awe and scared that this defloration thing wasn't going to work. But Tommy was gentle and as he introduced his penis with pride, he taught me how to please a man with my mouth and Tommy must have been a very good teacher, too because he grew bigger and filled my mouth to its fullest. I had to concentrate to fit his very large, oversized penis into my mouth without biting him with my teeth, but his patience was complete and the moans that came out of his mouth encouraged me to continue my onslaught.
It came time that my oral skills were making it difficult for him not to come, so he made it clear that the time had come to take my innocence. But he was and continued to be kind and gentle to me and he prepared me by bringing me to near orgasm before he put it in. By the time he did breach my hymen, while I felt initial pain, it quickly turned to great pleasure and through our experience, he brought me to orgasm twice before he came. I'd never seen sperm before and I was curious to see it, but my newly opened pussy missed his penis inside of me. He filled me so completely, that when he pulled out to release himself, my pussy felt cold and lonely. We spent some time resting together and then before I knew it, the time for us to get dressed and leave was upon us.
Tommy gave me such an incredible experience that I wished I could come back and do it again and again; but then I guess, you only get once experience; one chance when you lose your virginity and I don't doubt for a minute that I had not done the right thing. I needed the money, yes, but I also wanted my first time to be special and it was.
Today, I am apprenticing as a veterinarian and while I am no longer with my first boyfriend, what I learned from Tommy has made me a better lover and I am sure if my current boyfriend knew the truth, he'd send Tommy a letter of thanks.
Jessica Mazury!
Hi, my name is Jessica and I am no longer a virgin! I say that with great pride because I saved my virginity for my boyfriend and he was worth it.
First, I tell you a little bit about me. When I was a child, you would have called me a "tom-boy". I was all girl, but I wasn't into frilly things or playing with dolls. I dressed like a boy in jeans and t-shirts and I loved playing outside chasing lizards and participating in sports. I didn't have many girl friends, but I had a lot of boy friends and I had so much more fun with the boys than I could have ever imagined with the girls.
The summer I turned 12, everything went wrong. First, I began to menstruate. I was so ashamed. I did not want any of the boys I knew to know of my shame. I could not hide the bulky pads under my jeans and had to wear dresses when I had my period. The boys I played with, began to make fun of me and the girls I never had played with made fun of me also. I grew six inches taller that summer, too; so tall that my bones in my legs hurt and between that and cramps, I was in constant pain.
I spent many nights crying myself to sleep from a combination of the pain and the sadness. It was a very lonely summer and by the time we went back to school, my breasts had begun to develop and where most girls had little bee sting breasts, mine were full and heavy, leading to many taunts from cruel girls and nasty jeers from over-sexed boys.
It was the longest and loneliest year of my life.
Things did not get better for the rest of my school years. My body continued to... Read more >>> betray me as it developed faster and bigger than the other girls. Their taunts destroyed my spirit and the boys would not leave me alone. Sure, I was asked out for dates a lot of times, but they did not want my company; they wanted to feel my breasts and for me to make them men. So, you can imagine my excitement when I was 17 when a innocent girl wanted to be my friend. Only she didn't really want to be my friend, she wanted the very same things the boys did.
My mother was no help through all of this. She did nothing to comfort me or to give me advice. To be fair, I secretly thought that she was jealous of me. I was glad when I finally turned 18 and I was in my last year of school. I was determined that I would leave my family and school and seek out my own life in the city, a life I had hoped would not be as lonely as the one I was leaving behind.
My first action, on my 18th birthday was to get a belly button ring. I had seen them in the flat bellies of my wealthier classmates and I thought they were so classy. My parents, of course, were against it. They don't believe in marking one's body, but my own body had betrayed me and I saw no harm in trying to make it more like the other popular girls.
I had been saving my money for a year and found a tattoo shop within walking distance of the autobus line. I made the appointment for the very next day and so that I would not be detained, I climbed out my bedroom window very early in the morning and took the bus into the city.
I stopped to eat breakfast, but my tummy was so nervous, I did not eat much. I arrived at the shop early and spent a few minutes pacing back and forth wondering if this were not such a good idea.
Soon, a young man, peeked his head out the door to talk to me and when our eyes met, I felt butterflies in my tummy. His eyes held mine and pulled me to him. All I saw were his eyes. We spoke no words, I became lost not knowing where I was or what I was doing. The spell was broken when another customer tried to enter the store where our feet were firmly planted.
I finally got a good look at him. He had highlighted spiked hair and enough scruff on his face to give him a bad boy look, but the twinkle in his eyes, well that was pure mischief and I wanted to know more about him; my body wanted to know so much more.
He ushered me into the store and asked me to call him Ace. "Ace?" I questioned. "Yeah, just Ace" he replied and with the warmth of his voice tickling my ears, I knew that he was so much more.
I told him that I wanted a belly button ring and his eyebrow cocked up and his eyes began to twinkle. I felt that winkle right down to my toes and then that feeling settled in my stomach and I could barely breathe.
He helped me into a reclining position on his chair and went to lift my t-shirt up. I grabbed at the ends and stuttered "What are you, you doing?" "Relax, beautiful" he said, "I just need to prep the area."
He called me "beautiful" my heart sang inside. No one has ever called me beautiful. Not my parents or other boys or anybody. I let him pull up my shirt and he stopped short of my breasts. His hand glided on my flat stomach and his caress was warm and gentle and I wished that he would continue northward to caress my breasts. I blushed at the thought and he caught my eye and it was as if we were both thinking the same thing. I started to feel moisture near my shaved virgin pussy and I was afraid that I had gotten my period. I jumped off the table and ran to the bathroom, leaving Ace stunned in my wake.
In the bathroom, I stared at myself in the mirror and I almost didn't recognize myself. My face was flushed with what must have been desire and my nipples were pebbled and stretching the thin fabric of my t-shirt taut. I examined my pussy area for blood and my hand came away with a silky glistening fluid. I held my fingers to my nose expecting to smell blood, but instead, the smell was sweet and musky. Again I looked at my reflection in the mirror and I no longer saw an overdeveloped and clumsy teenager, but a woman that a handsome man with mischievous eyes called beautiful.
I returned to the chair, bolded by my revelation and I pulled up my shirt enough to give him a peek of my breasts, but not enough that he would think I was easy. He let out a low whistle and before I knew it, he was done.
We had our first date and kiss that day, my birthday, the day that changed everything.
I was determined that Ace would become my boyfriend and that I would leave my family home and make my way in the city. I snuck out of the house to see Ace every chance possible and soon we realized that we were in love. He asked me to move in with him, but without a job, I could not support myself. Ace offered to take care of me, but we were not lovers, so I felt strange about accepting his hospitality. He may have been older and more experienced than I, but he was a gentleman and never pressed the issue. He seemed content with just kissing and petting; yet we both often left each other's company feeling frustrated and unfulfilled.
A week later, I saw an ad in the paper for a modeling job, so I answered it and made an appointment. Maybe, I reasoned, if Ace saw me as beautiful, then maybe others would to. The photographer was very excited to see me and asked me to remove my clothes. I did so without hesitation as I was neither shy or a prude. He began to take pictures of me and when I spread my legs, he gasped! He couldn't believe I was a virgin! But he confirmed it and then he offered me a lot of money to pose for him. It was just what I needed to be able to support myself living with Ace, so I agreed. My photo shoot lasted several hours and I often caught the photographer blushing and then I noticed his obvious arousal. When we finished, he paid me and then told me that if I would agree to lose my virginity on camera to one of his porn stars, he would pay me much more money.
I thought on this for a few days and I was torn between the intense need I had to be financially independent from Ace and my love for Ace. I wanted my first time to be special and while Ace was experienced, I really wanted Ace to be the one to take my innocence. But I needed the money and then I came up with a plan.
I called the photographer and asked him how much he would pay me to lose my innocence with my boyfriend instead of his porn star. He agreed to pay me the same and he would pay Ace what he would have paid the actor. When Ace arrived home that evening, I excitedly told him what I had done and asked him to take my innocence on camera. He readily agreed and we were on location later that week ready to shoot.
The photographer gave us a little storyline to follow, but outside of his guidance, we had free choice over what was to happen.
We began in the indoor pool. It was the first time I had seen Ace completely naked. His cock was beautiful, hard and mottled with veins that stood out like a roadmap to pleasure. It was pointed towards me as if it were seeking my virgin pussy that would welcome it home. And then I saw, right on his left hip, the tattoo that marked him as "Ace". I fell in love with him all over again. His tattoo was sweet and badass at the same time; all Ace. All Mine.
We frolicked in the water some and became familiar with each other's nakedness. He would grab hold of me and pull me to him and I would feel his cock pressing against my entrance, but I pulled back as I was afraid. Finally he swam to the steps and pulled me against him. I could feel his manhood against my butt, but it was his kisses and calm voice assuring me that he would be careful that put me at ease.
Outside of the pool he licked my innocent pussy until I could feel the liquid draining down my thighs along with the rivulets of water as my body dried off and my core began to heat up. Now was the time to show my innocence and while Ace held my pussy lips wide open and the photographer filmed evidence of my virginity, I could feel the dew collecting around my bare lips. Once again, I caught the blush of the photographer and the evidence of his arousal, too and I felt a certain amount of pride that I could elicit such a reaction from a man. I no longer felt outcast or deformed, I felt loved by Ace and appreciated for my teen body by the photographer.
Ace, stood me up and had me face the wall, we were the perfect fit for him to take me from behind without stress or awkward positioning. He positioned the head of his cock at my entrance and gave a little push that hurt. I could feel the head pulse with each heartbeat as he rubbed it from the beginning of my slit, all the way to my back hole. I feared he was going to take my virgin ass, so I tensed a little, and he felt it. It was as if he could read my mind, but he calmed me as he whispered little assurances into my ears.
Distracted by his words and the featherlike kisses to my neck and shoulders I almost didn't feel him pushing as he breached my hymen. As his strong, hard dick tore through my innocence, I felt its heat and its presence burn through me like a wildfire. He stilled for a moment and then pushed himself even farther in as I screamed out both in pain and in pleasure and without pause, he continued his assault on my pussy, relentless, hard and unforgiving and soon that bite of pain turned into pleasure so raw; so eternal; so encompassing that everything else faded away; the photographer; the camera; the location and all that was left was blinding passion and love spiraling out of control until my orgasm snuck up and consumed us both in a cocoon of brilliant white light and multi-colored stars.
We continued to make love in just about every position known to man and when we finished our day of filming, we were both spent and exhausted, but I felt safe and loved and cherished and was happy not just for the money, but that I could still earn the money and give my innocence to the man I loved.
I have modeled several times for this same photographer and even lost my anal virginity on film with my boyfriend again. You can view the entire film (43 minutes) of losing my innocence, all my pictures and the video of me losing my anal virginity right here.
Rita Ulyanova
I grew up in a very poor section of Moscow. The fair weather lasted too long and the winters lasted even longer. We were always cold; always hungry; always in need of something.
Both of my parents worked very hard and still we suffered from great want.
While we didn't have much, our lives were full of love and great passion. For entertainment we made up stories at night in the dark of our apartment because we could not always afford electricity. My mother was creative with scraps she would scrounge for that others had thrown away and we ate with great relish for the feast she would prepare.
My mother was brilliant and she taught me how to read and while we could not afford instruments, she taught me everything she knew about the beauty of music. My father was also brilliant and he taught me of math and science.
If it weren't so apparent of our great wants and needs, I probably would never have thought us to be poor, but there were great differences between me and the other children at school and the older I got, the more painful our poverty became.
So, when I read about the woman who sold her virginity... Read more >>> at an online auction for about 7500 Euros, I knew I had found a way to support my family and pull us out from under such extreme poverty.
I enlisted the help of a classmate who had a computer and set myself to find this auction where I could sell my virginity. I wasn't able to find the auction site, but I did find an ad for a photographer who I could sell my virgin photos and he would pay extra to film the loss of my virginity. I was desperate so I contacted him and thanks to a loan from my friend, I found myself on a bus headed for Budapest, Hungary.
The travel gave me time to think upon my choice and by the time I had arrived at the studio, I had decided that this one time payment would help, but it would not remove us from such poverty. There were not a lot of opportunities for girls like me but if I could become a porn star, then I could provide for my family. I did not harbor any fantasy that my parents would be proud of my career choice, but I knew that they had such a hard life and they took such good care of me, that it was time that I take on their burden.
I was upfront with the producer and the photographer about my desire to become a porn star and he assured me that he would do everything in his power to make my dream come true.
The photographer took many pictures of me and then some solo videos. He processed them immediately and then sent them over to a modeling agency who was willing to sign me right away. But first we needed to film an audition tape showing me having sex with a man. The man would be Thomas Stone, a famous Hungarian Porn Star and he would take my virginity for the camera.
I was very nervous. I had no experience with boys or men for that matter and here I was to allow a famous man who fucked women for money to take my innocence.
When I met him, he was very kind. He gently caressed my skin and while the photographer was setting the lighting, he would steal a kiss here and touch me a little bit there and by the time we were ready to shoot the loss of my innocence, I was breathless with desire for him.
His brown eyes speared me with his heated gaze as he began the process that would lead to the destruction of my virgin pussy and perhaps even more. His caress was gentle, but I could feel the heat pour off his body. He tasted of mint and smelled of spice and tobacco and as his hands and mouth moved closer to my virgin pussy lips, I could hear him sniff my arousal and I saw his eyes go wide with pleasure.
He used his fingers in concert with his mouth to pull back the skin that covered my little nub and his strong tongue darted out to taste me. I felt tingles mixed with a little pain as his fingers worked faster and his tongue delved deeper and then the tingles coalesced into one giant ache that took my breathe away as I shattered and the muscles of my teen pussy quaked in response.
He spun me around and without giving me a chance to breathe, he began again rubbing my nub with his fingers as he spread the wetness from my front all the way to the tiny pucker of my ass. He bit one butt cheek and then the next and then his tongue was upon that forbidden hole, flicking into me and back and forth as he spread my juices even farther into my ass. He could sense me tense and then just as quickly, he turned me back and set me down on the chaise.
He unbuttoned his jeans and slowly revealed his massive cock to me. I could see his pulse running through the taught veins that covered the surface and as I watched in astonishment as it grew even larger and even harder than before. I tentatively reached for his cock and when I placed my hand around it, I heard his breath catch as it twitched in my hand. Tenderly, I took him in my mouth, careful not to scrape my teeth against the sensitive skin, and sucked, gently at first and then with more vigor as I heard him moan at the pleasure I was giving him. Neither of us spoke the other's language, but we understood each other's bodies completely.
I felt him twitch more frequently in my mouth and his moans became louder. I may have been a virgin, but I had paid attention in biology class and I knew he must be getting close. I reluctantly released him from my grasp and I immediately felt the loss of his manhood from my mouth. It was as if my tongue no longer had use and my mouth was cooler from the absence of his heat.
He gently pulled me up into what I would come to learn was the doggy pose and while I could sense his desire to enter me with a single strong thrust, he took great care to prepare me for his entrance. As he rubbed my lips with the large head of his cock, every once in a while he would stop and press against my hymen and when the pain would register in my voice through tiny gasps, he'd pull back and rub me again. each pause he would press a little harder and each press would cause another gasp to escape until those gasps became frantic moans as my heat was desperate to be filled with his.
With one final press, he pulled me onto his cock as his firm head tore at my virgin hymen and I yelped in pain. His hand was quick to caress my back as he pulled me toward him and whispered in my ears what I felt to be words of comfort. He held me still as my tight pussy began to loosen around him and soon he began to thrust, slowly at first and then faster as our bodies began to move in concert, reaching for our own orgasms, as his cock searched for that pleasure button located in the depths of my body and as my pussy began to convulse around him, milking his cock, his moans of pleasure ringing strong in my ears and, well, and you will just have to watch my video to see what happened next.
I am a porn star now. I work hard and I have been able to pull my family from the great poverty in which we lived for so long. I don't regret a single decision I made and am thankful for the strong start defloration.com and Thomas Stone gave me!
Defloration
Anna Derevjanko . She just turned 18 years. She is very sexy and very funny girl. Of course she has lost her virginity right before our camera. You can download hot defloration video and hymen pics right now!
I've sold my virginity
She came to us only 2 days past her 18th birthday. As I slowly parted her legs I saw her plump virgin pussy lips. She shivered with fear and excitement from the touch of my hands on her inner thighs. She had never let a boy see or touch her virgin pussy. I carefully parted her pink lips and saw her intact hymen. I had to suppress my strong desire to use a finger or my tongue between her lips to bring her to a climax. The thought of her losing her virginity had so strongly aroused this inexperienced girl that I knew that she could not resist me, but we had signed a contract...
Greta Polack
When Greta came to our studio for the first time, she definitely refused to lose her virginity before our camera but later she agreed to make it with her boyfriend and we've managed to shoot an amasing defloration video. We recommended him to take a Viagra pill but he refused it. And he managed to do a great job even without Viagra! Enjoy great hardcore photos and HD video! You can download it right now! Her untouched innocent pussy will blow your mind...
The virgin
...It was a hot summer day and she was wearing a short skirt with no panties. She was in her parents apartment and was on her hands and knees washing the kitchen floor. She was alone with her fat boyfriend. She was shocked when he suddenly jumped on her back and held her with his hands. She tried to get him off but he was very strong and growled at her. Then she felt something wet and hot poking at her pussy. She wiggled her ass to stop him and then she felt it slip into her anus. He started pumping her very fast. As she told me the story, she blushed and admitted to me that it was a pleasant feeling. She knew what he was doing, because she had already seen this on video. After a minute she felt something hot squirt inside her. After her boyfriend got off of her, she stayed in that position for a few minutes while he licked her pussy. As a result of this shocking experience, she remained a virgin until now. She is OK now and was very willing to lose her virginity before my camera.
Losing of virginity
Virgin Kleine Punci is 18 years old. She agreed to lose her virginity right before our camera with a professional porn actor! Close up hymen picture and losing of virginity action on HD video! You can download her defloration video and hymen photo right now! Her hot and wet virgin pussy is waiting for you!
Anastasia Seymour
She came to our studio just after turning 18. She agreed to pose in the nude for us, and do a solo video where she showed us her hymen, proving her virginity. Then we convinced her to lose her virginity to our professional actor, Tommy.
Below you can see the screenshots from the video.
Tommy slowly and gently spread her legs and was the first man to see her hymen.
We decided to take her virginity with her in the doggy position. From our experience, this is the best position for her defloration. It is less painful for the girl, and more pleasant for the man.
Anastasia was fascinated by watching Tommy ejaculate. Today was the first day of this virgin's sexual life, and we captured it all on video. You can download the full length video right now.
A comment from our member:
Anastasia is a "classic" beauty. She has a beautiful face. She should be a model. I believe that in your conversation, she talked about modeling. Her breasts are perfect. Her legs are perfect. I made some screen grabs and included them. They are similar to the still photos you posted.
The "story" that you told with both videos is excellent. The continuity is great. It was a love story and very emotional and erotic. It was the best that you have done so far.
I am very surprised how quickly she learned about how to suck his penis so fast. And the way she moved while sitting on him was very erotic. I loved it. I loved every second of it.
Rebecca Brown
Hi, my name is Rebecca Brown and until just a few days ago, I was a virgin. I have wanted to be a porn actress since I saw my first porn video three years ago at my schoolmate's house.
There were four of us girls hanging out after classes and enjoying the beers we had snuck from the refrigerator. We all became a little bit drunk and we started playing some sexy games. One of the girls had found a stash of her brother's porn DVDs, so we put one on the television, tuned the lights down low and began to watch. It was The Defloration of Tamara Uromy.
It was so fucking hot! My panties flooded with heat watching as the actor Tommy began to caress and pet her breasts and I marveled at how her breasts responded by swelling and the nipples becoming hard and I so wanted to feel what she was experiencing, so i began to pull and tug at my breasts and the sensation was exciting and forbidden. As the video progressed, I could hear the quiet moans of my schoolmates and looked around to see them all playing with their tits and when Tommy began to finger her and rub out her first orgasm, we all followed along. By the time the video was over, some had orgasmed, but I had not. The feeling was too strange and foreign and my feelings scared me. We also checked with mirrors to make sure we were all still
... Read more >>>
Here is our latest teen model, Anna Lukina.
She is an 18 year old student from Russia. She agreed to lose her virginity right before our cameras.
In our crystal clear video, you will see her first touch of a man's penis, first time oral sex, and of course the rupture of her hymen by our actor's penis. You can download the full length video onto your computer in two formats: HD 1920x1080 and QHD 2560x1440
See and hear her react to her first ever sexual feelings, her pure virgin body shaking from sexual arousal. It will blow your mind and empty your balls!
A comment from our member:
Your latest video of Anna (from Russia) is fantastic! My favorite girl up until now has been Bianka Golden. Now it is Anna Lukina. This is the most erotic movie that I have ever seen. Her body language tells me how shy and nervous she was. She has a great body, cute face, and I could spend hours just licking her breasts. They are perfect.
I am sure that you did not like having to do so much work with the captions, but it was worth it to me. It told more of the story of her defloration. In the 18 years of watching your videos, this is the best one. Her emotions were fantastic during the foreplay and her orgasm. The sound was the best that you have ever done. It was good and long at 37 minutes, and a good movie "goes fast". This one certainly did "go fast". I only wish there was more. I noticed that you had still photos of her putting on her costume for the video. You also had still photos of her in a "missionary" position on the chair with him, but no video of that.
Her video was so exciting... Is it possible that you could get her back to make more videos? Now that she is no longer sore, and not so shy anymore. It would be a good video to show how much she has changed and enjoys sex. Her body was made for porn...
Meet our first virgin from Asia.
She asked us not to mention where she lived. She is a very beautiful and polite teen aged girl. This is her first time posing before the camera in the nude. We are sure that you will love seeing her unshaven pubic hair. It has been a year since we photographed her and she is still a virgin. Sorry guys, she said that she is waiting until she meets the man that she will marry. Sign up now to download her beautiful HQ pictures and HD video from our members' section. Like our other virgins, she was shot exclusively for our website.
Anna Netrebko.
I am Anna and I am a ballerina in Prague. I have been studying dance since I was two years old. I can remember playing dress up i my mother's tutu's as she was a ballerina too and her mother before her. My mother would affix her tutu to my little body and turn the phonograph on with classical dance music. At first, we moved together through the music and danced as one. As I got older, she began to teach me barre exercises and we practiced them over and over until they were perfect. When I was five, she began to teach me the steps of famous ballet pieces she had performed and by the time I was seven, my bones and my muscles became strong enough so that I could dance en pointe. I then began to have formal teachers and my father worked extra jobs and my mother took in laundry to clean for the rich people in town to afford my lessons.
I ate, breathed and slept ballet. No opportunity was left unturned and my parent's sacrifice was all for me to become a prima ballerina with the conservatory. At 11, I left my family home and entered formal study. Since then, my life has been hard study, both in academics as well as dance. I had no time for friends or boy
... Read more >>>
Dunya Konoplya
Our latest virgin is a pretty country girl with long light brown hair. She was quite pleasant to work with, but she did not know how to pose for the camera. She came to our studio, still a virgin so we had to take her. When I took off her panties, I saw the red blush on her cheeks. She was very shy and awkward, but let me do what I wanted. I spread her pussy lips and became the first man to see the small hole in her hymen. My dick got hard and I was filled with lust.
I wanted to test her sexual response. I probed her entrance with my tongue, lightly licking her cherry. She shivered with excitement and I could not stop myself. I licked harder and probed deeper with my tongue, but not tearing anything. She groaned and grabbed my head, lifting her pussy to give me better access. Within two minutes she came... it was incredible.
Let me tell you a little secret. She has already happily lost her virginity with our actor Tommy. During her first sexual intercourse with him she came four times! You will see this on our High Definition Video!